In the construction industry, contractors with low qualifications manage to slip through the verification process because the conventional system which they still make use of is flawed and old. These workers have little skill and can pose a great danger to those who hired them.
The construction workers still make use of a networking arrangement whereby their colleagues notify them of new jobs whenever it is available. This method is old and will soon no longer work.
Technology has changed the way people do and see things and various industries are experiencing growth margins that were sometimes described as impossible. Despite the technological innovation in the construction business, some problems still persist.
PROBLEMS AND SOLUTION
The industry has a challenge with payment structure and also work quality and this has made both clients and construction workers to have trust issue towards each other. Builderium will rectify this situation by introducing a payment structure that is both secure and trustworthy. Third party agencies will not be needed anymore on the platform because they charge high rates for their services. By so doing, Builderium will give workers and clients a reason to believe in the industry once again.
Also, the problem of price bidding will be made simple on the Builderium platform because jobs will be allocated through this bidding process. Construction workers will present the amount they need to complete a job and the clients will also decide on who handles their projects based on the experience and skill of the worker.
The problem of reputation will be solved once third-party agents are removed because they contribute to the reason why unqualified construction workers get to participate in the industry. Builderium will make sure that only the right people for the job are found on their platform.
STRATEGIES
Builderium has designed a token to be used on their platform to make payment secure, within and across border, and to make the process instantaneous for all parties involved. A smart contract will be used by the platform to eliminate middlemen who usually take as much as 4-20% commission for every transaction.
Builderium will also serve as an advert placing stage where building contractors can show the world their trade. In the past, middlemen used to be paid a large sum to handle this service, but not anymore as Builderium will make the process cheaper and more efficient for their platform users.
Builderium will ensure that all payments occur fast and as at when due through their tokenized economy. Also, construction workers will experince a greater level of work exposure because they will be getting better projects which will come as a result of the rating system on the platform where positive remarks are used to describe the work of a construction worker. Through this rating system, clients will develop trust for their hired construction workers and the workers will strive to do better than their last job in order to continue receiving positive reviews.
BENEFITS
A secure payment system
Wider customer base of clients from all over the world
Security of assets and properties facilitated by the blockchain technology.
CONCLUSION
Builderium will take the building community to greater heights with the use of blockchain technology and all services rendered in the industry will experience a newness to the satisfaction of clients and profitability of the construction workers.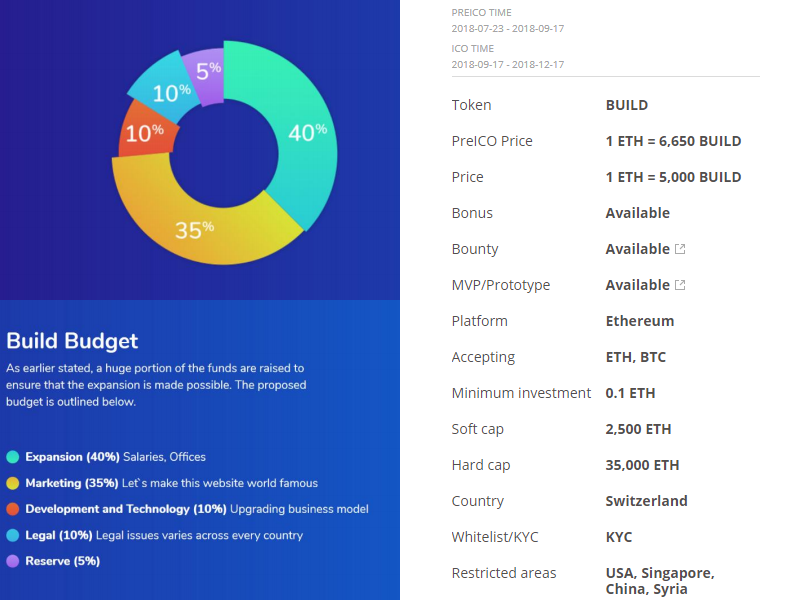 https://builderium.io/
https://t.me/BuilderiumCommunity
https://builderium.io/img/Builderium_Whitepaper.pdf
https://bitcointalk.org/index.php?topic=4685040.0
Username: aaamira
Profile Link: https://bitcointalk.org/index.php?action=profile;u=2173324
Wallet Address:  0xCA5741f20FdCeB170c921f880159970fEd57BC3f