The blockchain as we know it, is disrupting the way things are being done in various areas of our lives and industries. You will have to agree with me that the blockchain makes whatever it touches better.
The freelancing industry for example, fellow freelancers like myself will agree with me that the blockchain and its smart contract will ultimately make the industry better and more rewarding.
Today various prominent industries are already keying into this disruptive technology in other to make their industries better, but the construction industry which is of great importance to us has not been able to employ the use of this technology because of its lack of a general marketplace.
Construction contractors worldwide have faced various problems due to the lack of a marketplace and that is the sole reason BUILDERIUM is using blockchain technology to create a global marketplace for the construction industry.
CHALLENGES FACED BY CONSTRUCTION CONTRACTORS
The construction contractors till this day still rely on old fashioned or basic mediums of communications and advertising with no global platform made for the purpose of connecting contractors to clients.
This old-fashion means of advertising is really expensive and can only be afforded by large construction companies which also end up raising the cost price for them to carry out any form of construction. This have greatly affected independent contractors and small construction companies who can't afford such high cost advert channels, as well as customers who can't afford to pay high prices for their constructions.
This has therefore led to individual contractors and small construction companies to utilize local means of advert which does to really put their face on the map. Also, this has led to customers not being able to know the reliability of contractors before employing their services because this advert channels lack a review system.
INTRODUCING BUILDERIUM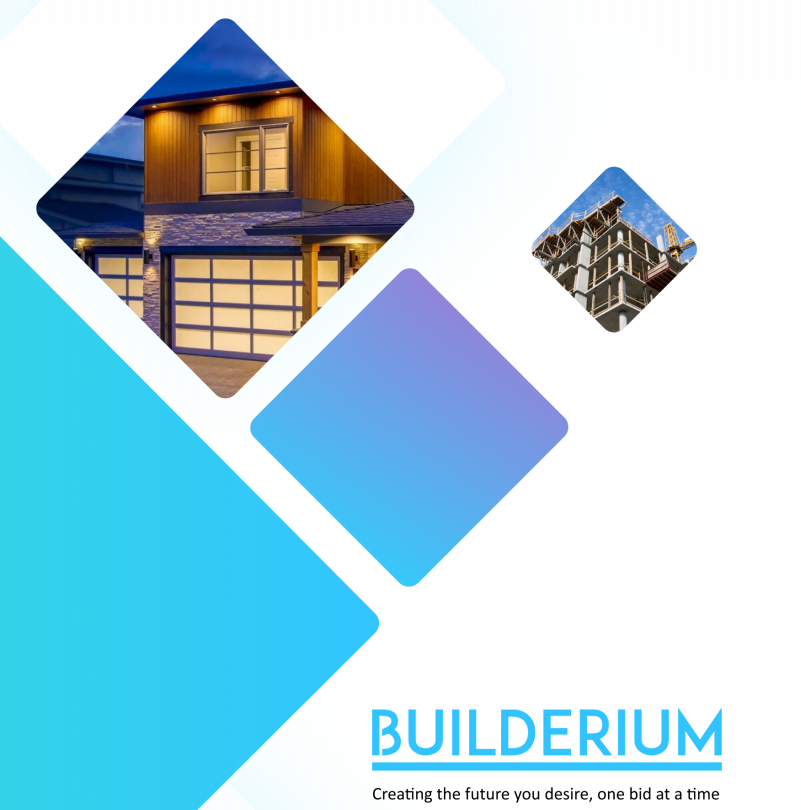 BUILDERUIM with the help of the disruptive features of blockchain, is creating a decentralized and transparent global marketplace where construction contractors (small, medium and large construction companies) will be able to advertise themselves and their business.
This platform will come with a rating system and niche identifier which will enable customers to be able to employ the best help they need for their construction projects for the best price.
PROJECTS SOLUTION
BUILDERIUM is a full featured construction platform which is aimed at connecting clients with construction contractors while ensuring quality and affordability. BUILDERIUM will be bringing massive benefits to the following set of persons:
Construction service providers
Construction service customers
Marketers
The platform will be open for all and millions of participants will be able sell their services, buy services and market their companies/industries. The blockchain distributed ledger protocol will enable for the removal of third-party services on the platform and will allow for the completion of project as agreed by the clients and contractors with the use of blockchain smart contract.
SOME SERVICES OFFERED ON BUILDERIUM
Kitchen remodelling
Bathroom redesigning
Resident and commercial apartment construction
Roof remodelling and much more
FINAL THOUGHTS
In other to facilitate a secure means of payment and a payment system which will be managed with the use of smart contract, the platform will have its own cryptocurrency which will be used as a mode of payment on the platform.
The platform is currently offering the BUILD Token as an initial token offering for those getting on board the system before its launch, I believe this poses the best opportunity to accumulate enough token for future use.
https://builderium.io/img/Builderium_Whitepaper.pdf
https://t.me/BuilderiumCommunity/
https://twitter.com/Builderium
https://www.facebook.com/Builderium-1819897248073804/
Username: myicopanda
Profile Link: https://bitcointalk.org/index.php?action=profile;u=2219367
Wallet address: 0x37f8691e16d22671d84672b5432cca4D453518f4